Packing Your Device for Collection
You can of course use any other packing material BUT PACK YOUR DEVICE WELL if you fail to pack your device well you will not be insured against any damage at all, and we, nor will our carriers be held responsible in any way, remember your device will be in a van with other parcels and may experience slight collisions with other parcels, BE AWARE AND PACK IT WELL. There must be at least 1.5 inch of packing around every side and corner of your device in the box.
Step 1
Put charger in the box and cover the base in balls of newspaper / towel / bubble wrap.
Step 2
Put laptop on top, there must be at least 1 inch / 2.5 cm of packing on all sides of the device.
Step 3
Fill ALL of the empty space with newspaper / towels, don't scrimp on packing.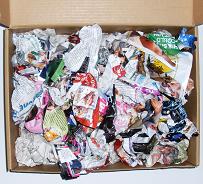 Step 4
Tape the box up and attach the label. Do not use a jiffy bag your device may get broken.